Pictures of Dogs American Bulldog Pictures and American Bulldog Breed Informations
American Bulldog or Old Country Bulldog is a domestic breed of dogs. American bulldog is the closest surviving relative of Old English bulldog. American bulldogs are of two types Johnson type and Scott type, named after the names of their breeders. Johnson type is larger than the Scott type. American bulldog is a stocky, well-built and strong type of dog. It is more agile and swifter than English bulldog.
It has a short coat that comes in white, white with patches, black and white brindle, fawn and white, fawn and white brindle or a combination of all these. There are few exceptional breeds that come with a blue patch. Overall, it is a muscular and strong dog with large and powerful head. Head is square and broad with muscular cheeks and rounded eyes. It has a black or grizzle nose, different types of ears and black wide eyes. Its weight is around 80-120 pounds and its height is about 22-26 inches. It has a life span of about 16 years. They have a strong protective instinct and are brave and determined. With its true love, devotion and grit towards the human being, it is considered as the best friend of human being.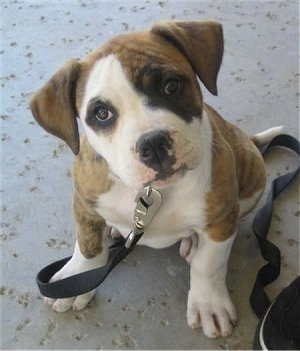 We think this little trooper could star in
dog movies